About Raffine
creating overall feeling of well-being
Raffine is a relaxation industry
with over 500 stores in Japan.
The store provides atmosphere
that is a blend of cultural
and modern Japan
with a Japanese masseuse
that will provide elegant service.
Please enjoy the luxury of releasing stress
from your heart and soul.
For a beginner
Free changing clothes are available.
We might refuse our treatment for those concerned below,
so please ask us first.
Expectant mothers
Had serious injury or illness before
Seeing a doctor or under treatment
Having a wound or illness
Aroma Swedish

(Oil)
Focused mainly on Lymph Drainage which is expected to alleviate swelling or recovering from fatigue.
You can choose from 3 types
of oil depending on your taste.
Hand Reflexology
Stimulating meridian points on palm increases circulation and relieves fatigue and stress.
We recommend this treatment for whom that
has tension in their arms, shoulders or eyes.
Head Shoulder
Takes the stiffness out
of your shoulders, head, neck and ears.
You can relax while sitting
on a recliner.
Reflexology

with Foot Bath
Stimulating meridian points concentrating
on sole (reflex zone) expects to activate the circulation
and recoveringfunction of body.
Body Care

(Non-oil)
Brings out the healing power of nature by applying
pressure on meridian points and muscles
of the body effectively.
Foot Bath
You can enjoy foot bath with your favorite scent
according to your feelings or physical condition.
Remedial Massage Therapy
Remedial massage therapy involves a range of techniques and styles,
such as deep tissue massage, trigger point therapy Myofascial release,
Muscle energy technique, Mobilization, PNF stretching and sports massage,
which focus on treating specific injuries, repairing damage and rehabilitation.
*Eligible for health fund rebate.
*Making appointment before hand.
All other non-remedial massage products are not applicable for health fund rebate
Appointment for Remedial Massage
Dear Patrons, We have several conditions for providing Remedial Massage Therapy.
Product features
Reserving for Remedial Massage are only available over the phone and the front desk.
Only available for in advance booking beforehand.
Booking for Remedial must be made at least minimum of 24 hours before the time of booking.
All other non-remedial products (Body Care, Aroma etc) are not applicable for health fund rebate.
Arriving not on time (minimum 10 minute late) without any notices before arriving,
we will automatically cancel the booking.
Insurance company which are unavailable to be claim
for Health Fund Rebate are Medibank Private and HCF.
HICAPS won't be available. Receipt with therapist details
and provider numbers will be provided.
Remedial Massage is available on weekdays only.
Only one remedial therapist available on each day.
Not available for couples or paired booking.
Thank you for your understanding and kind cooperation.
Gift Voucher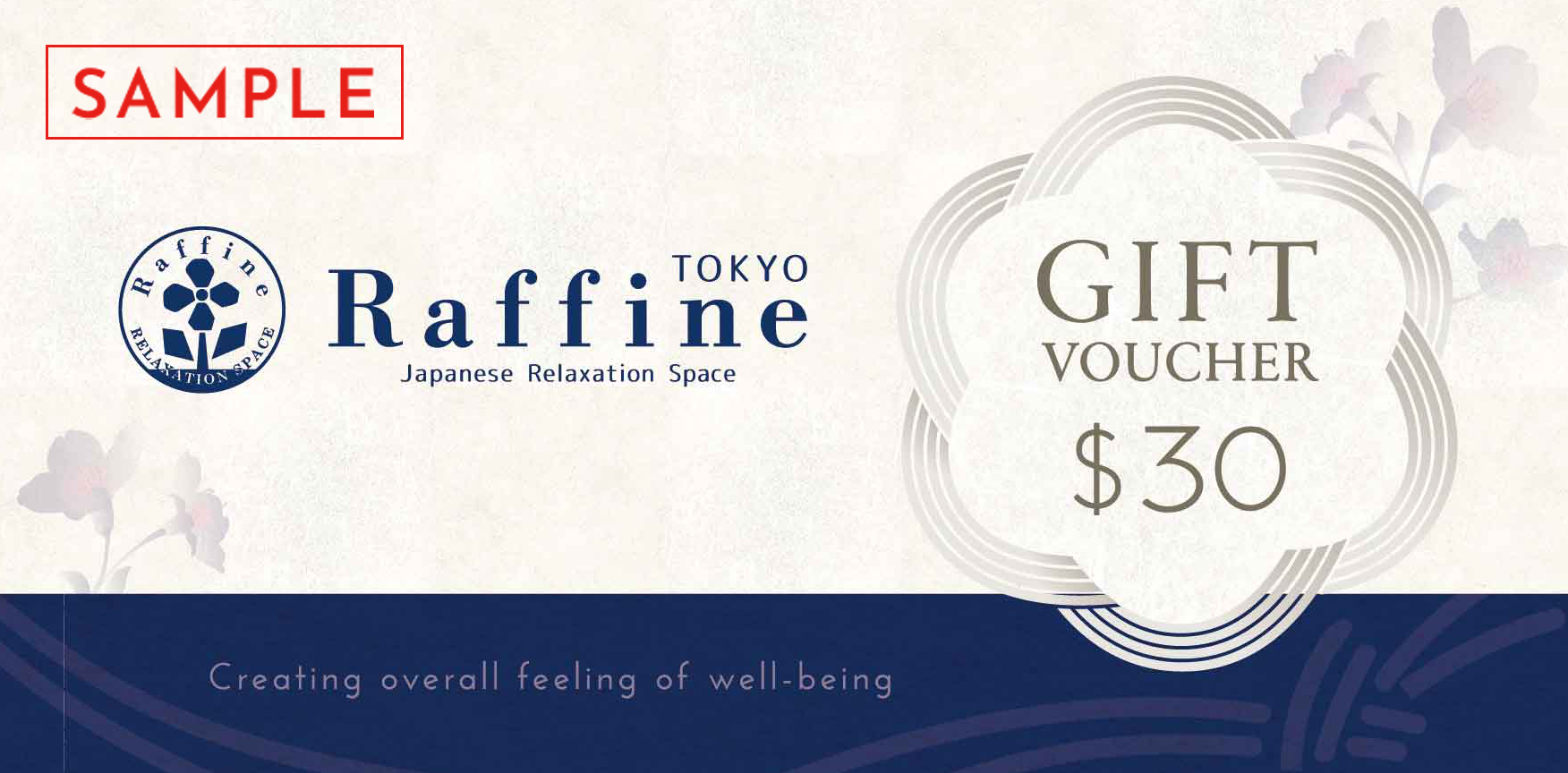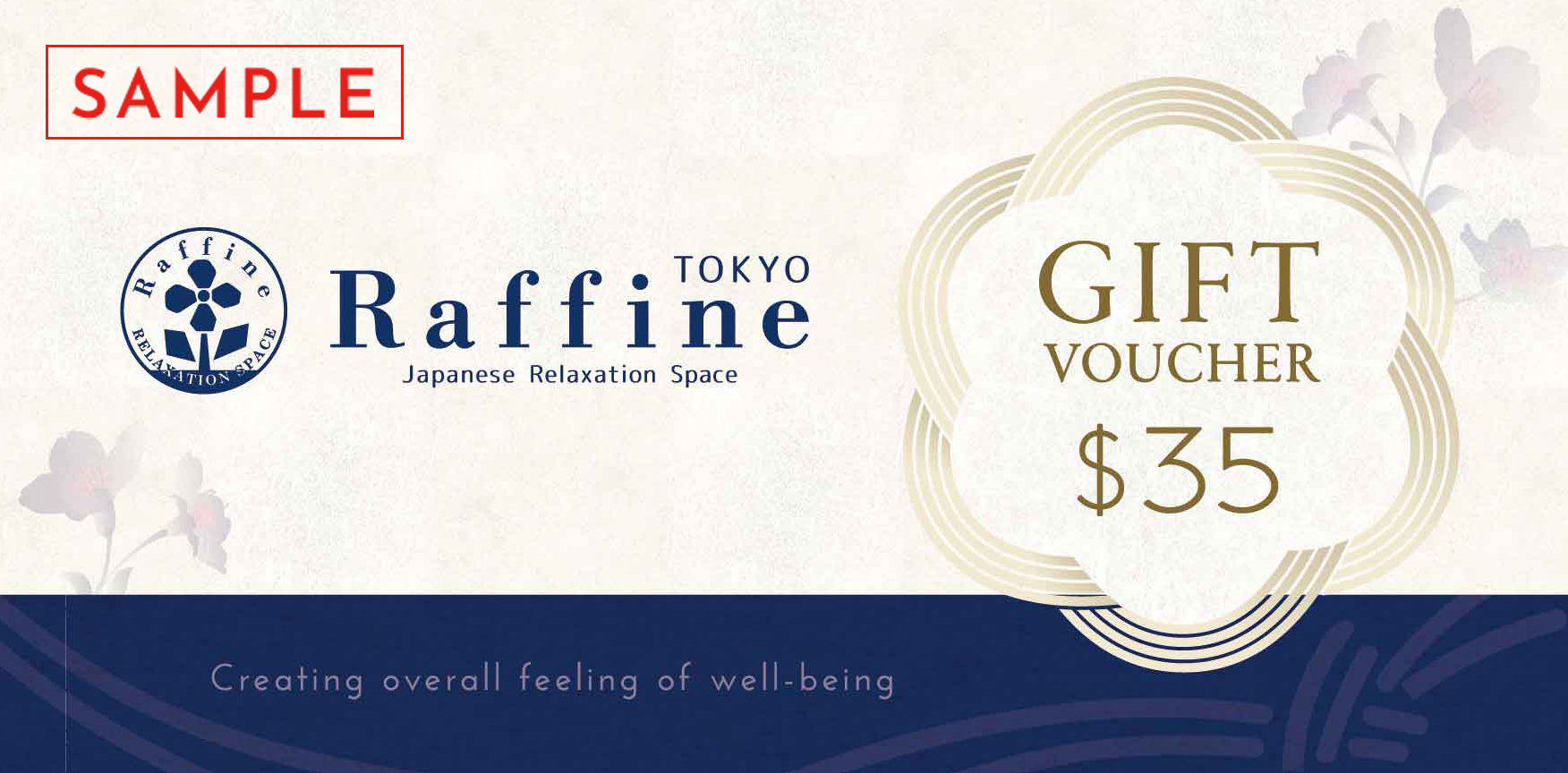 Terms and conditions:
This gift voucher is valid only at Raffine TOKYO.
This gift voucher is nonrefundable.
This gift voucher is not exchangeable for cash.
Gift vouchers are not used or redeemable for Remedial Massage.
Please present this gift voucher on the day you visit Raffine TOKYO.
We are not responsible if a Gift Voucher is lost, stolen, damaged or destroyed and no replacement will be provided in these circumstances.
Gift voucher cannot be spitted between multiple number of people and multiple transactions. One gift voucher per person.
Gift Voucher can only be used once. Will not keep record for remaining balance.
Special Gift to a Special One.
Member's Card
Product features
Earn a stamp for every $50 spent. (Excluded remedial massage)
Redeem $5 for 10 stamps, $10 for 20 stamps. (However, on your next visit)
Only valid for Raffine TOKYO. (Invalid for other stores in Japan)
Cannot be used after from date of issued. (Expiry cards will be collected)
Purchasing gift voucher will may also count as a stamp for on your member's card.
Using or redeeming gift voucher will not apply for a stamp for your member's card.
One Member's Card per person only. We do not allow sharing one card between multiple people.(2 or more)
Loyalty Card are usable for both two branches.
Design of the card may change without any notice.
Distribution of this card may be terminated without notice.
Point redeem program is subject to change without notice.